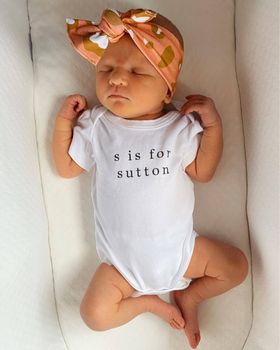 Bloom Headwraps // Cheerily Onesie
Small Businesses shouldn't just be highlighted once a year because they need our support all year long. This year especially is a great time to shop small! I'm breaking it up into two categories one for the small businesses I love for Sutton and one for adults both in alphabetical order!
Small Shops for Kids
6Heart Turbans + Head Wraps// $5 Bows, Knots, & Rose Buns
Bacon Bit Co// Resin Alphabet Sight Word Sets
Bestaroo// Super Soft Pjs Sitewide Sale
Busy Baby Mat//Placemat to keep baby busy 20% off through Monday
Busy Puzzle// Custom Wooden Name Puzzle 60% Off
Cuddle + Kind// 20% off Dolls
Bloom Headwraps// Bows for Sutton 25% off with code: SHOPSMALL
Childhoods Clothing// 25% off with code BLACKFRIDAY20
Cheerily// Personalized Clothing Up to 25% off
Ford and Wyatt//Cute Mama + Babe Apparel 20% off with code: BF20
Freshly Picked// Diaper Bags and Moccasins Up to 40% off
Gathre// Wipeable Play Mats 20% off with code: THANKFUL
Kyte Baby// Soft Sleep Sacks, PJs and loveys Clearance Sale
Little Poppy Co// Subscription Bows 30% off Subscriber Shop
Little Sleepies// 20% off Jammies with code: BF20
One Little Shop// 50% off with code: BLACKFRIDAY
Opal + Olive// Handmade Wooden Signs Next Drop Dec. 1!
Lou Lou and Company// Softest Swaddle Blankets and Knotted Gowns Free Ship
Loomwell// Sutton's Rainbow Wallpaper 15% off code: MORGAN
Mloveddesigns// Baby Accessories
Pearl and Jane// Adorable Felt Garland
Saranoni Blankets// Great for the whole family! 25% off
Solly Baby//PJs and Baby wearing wraps Up to 30% off
Stella and Lu// Iowa Based Loveys
Stevie J's// Bows for Sutton 20% off with code: SHOPSMALL
The Wood Cove// Wooden Toys and Decor
Top Knots// Baby Turbans 30% off with code: BLACK FRIDAY
Tubby Todd// Bath Time Goodies Black Friday Sale: 15% off site wide, 20% off 100+ | Free U.S. Shipping $50+
Adult Small Shops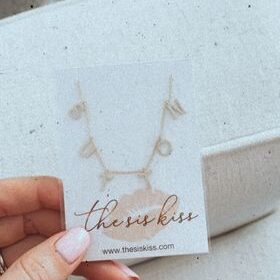 Apricot Lane Peoria// 30% off site wide
Blush// Pella, Iowa Favorite Home Decor
Boathouse Apparel// Adorable Boutique + Seasonal Graphic tees 30% off with code: BLKFRIDAY
Brigtenmade// Bri an AMAZING Graphic Designer that did all the Midwest Wardrobe branding! Has the cutest graphic prints 30% off with code: BRIGHTFRIDAY
Emerson Charles// Adorable Online Clothing Boutique Buy More Save More Sale!
Garland of Grace Co.// Handmade Clay Earrings 20% off
H. Hazel Eye Gels// 20% off with code: BRIGHTFRIDAY
Honey Nectar Creative// Holiday Cards
House of Color//Kim Jensen Color Analysis
Loopy Cases// The best phone cases so you don't drop your phone! Buy more, save more or use code for 10% off: MIDWESTWARDROBE
Let It Bead Jewels// Personalized 14k gold filled bead bracelets
Oak Lane Candle Co.// Natural Soy Candles
Oventure // 25% off with code OHWHATFUN
Palms, Psalms, & Prosecco//Candles, wax melts, and other gifts
Red Aspen//Glue On Nails 25% off everything! Free Nail Set with $60 purchase
Sage and Gray Market// Tees and Home Decor
Stella & Dot// 30% off Almost Everything!
The Sis Kiss//30% off all custom pieces!
Tanique// Custom Spray Tans Buy 3 tans, Get 1 FREE