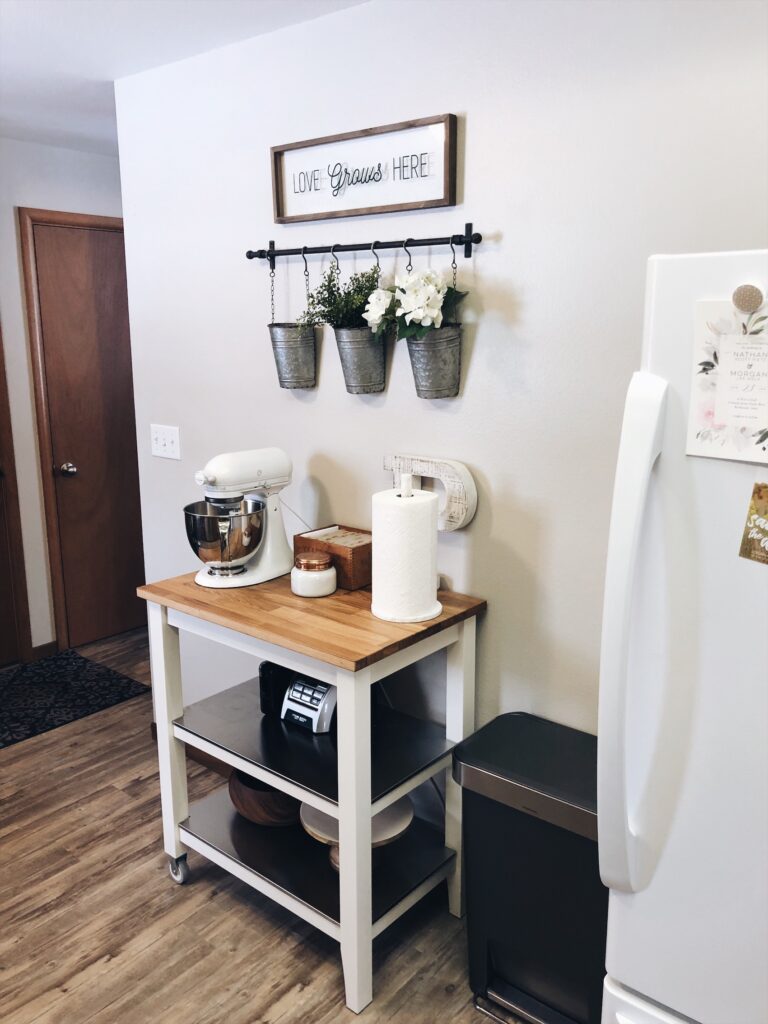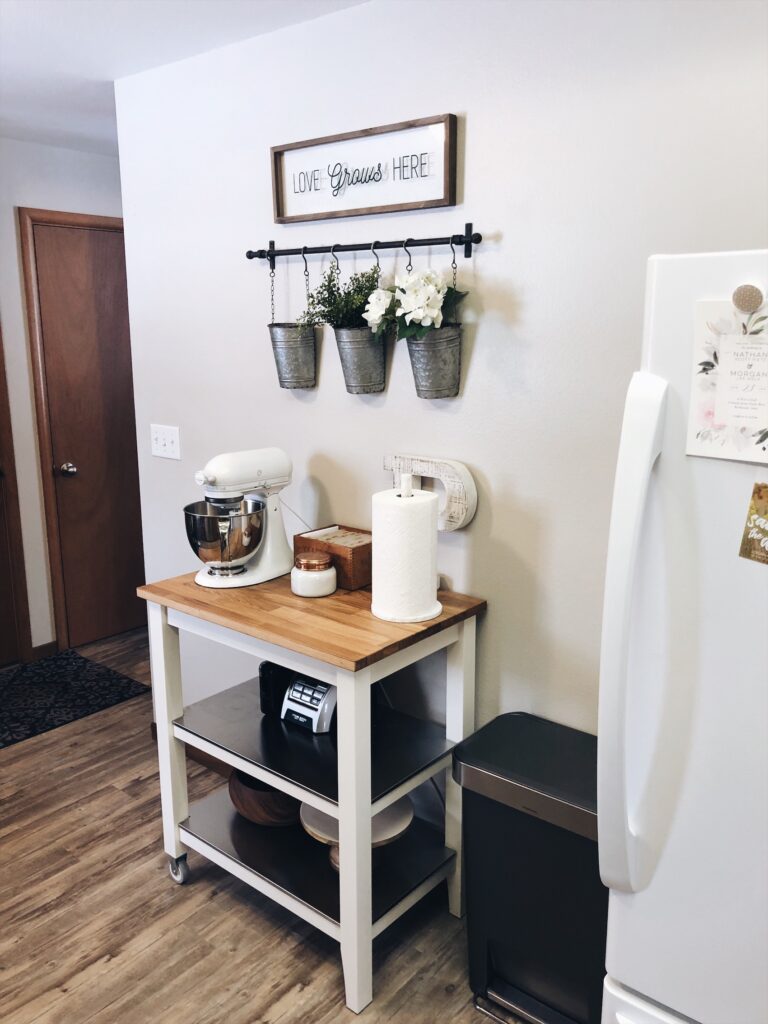 I'm so excited to start sharing the process of our kitchen reno with you all! I wanted to start with a little background of our home. Almost 4 years ago while we were dating, we talked about how we should move into Nate's Grandparents home. It was Nate's Dad's home growing up, so there have been many memories in this home and we liked the idea of keeping it in the family.
We gave a lot of the spaces a facelift, like new flooring, painted everything, remodeled the master bath and a few other things. But to get to that point, we had to go through everything in the house. His Grandma bought and sold antiques of all sorts, so that meant there were boxes everywhere! It was kind of fun going through everything but also a lot of work.
While we were engaged, we finally bought the home, officially making it ours! With buying a home of course comes with issues right off the bat, between having to get a new furnace and A/C in the first 2 months, then the water heater and then the oven part of our stove went out a few months after that.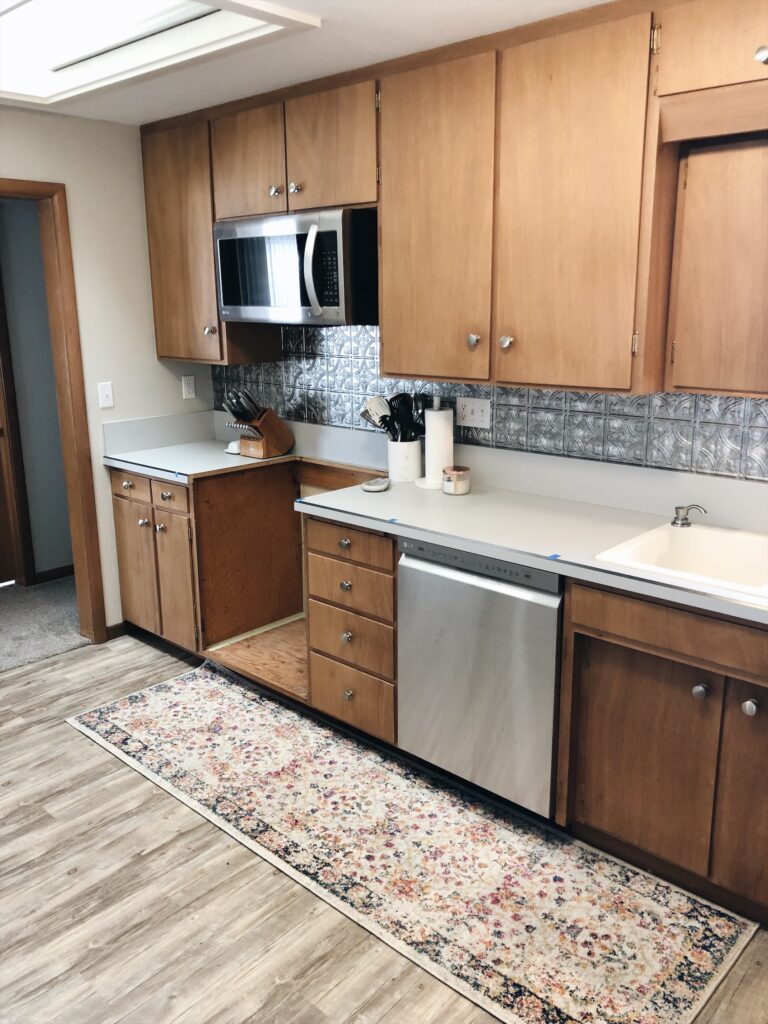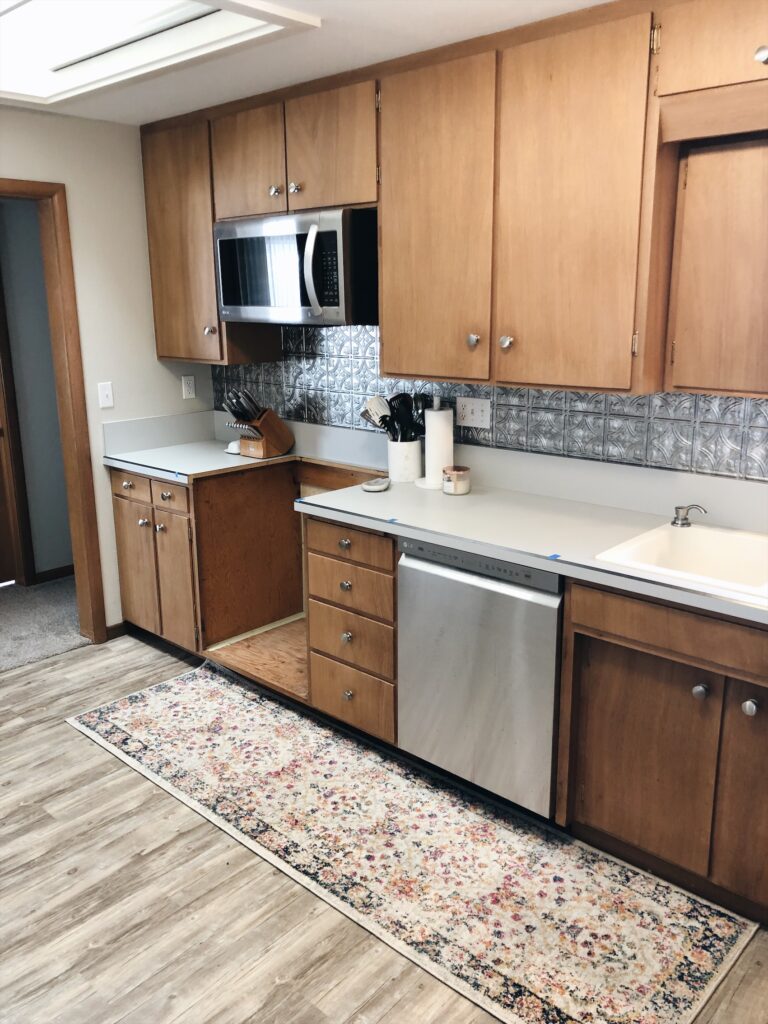 The kitchen was pretty outdated so we put a microwave above the stove, got a dishwasher, added a backsplash and fresh coat of paint. I really wanted to paint the cupboards white but I knew that was a large task so I settled with new knobs and gave the inside of the cupboards a fresh coat of paint. We tried to make the kitchen more functional by adding the blue coffee bar and the butcher block island (my favorite area in the kitchen).
This has been our current state of our kitchen since January, my dad and Nate tried fixing the oven and completely broke it. We took it in for repairs and it never returned home. lol We would have just liked to buy a new oven and think about remodeling later. But our oven was only 24″ wide and they don't have many options available in that size. So we would have had to take away more cabinet space, which we were already limited on. Which leads me to our kitchen remodel!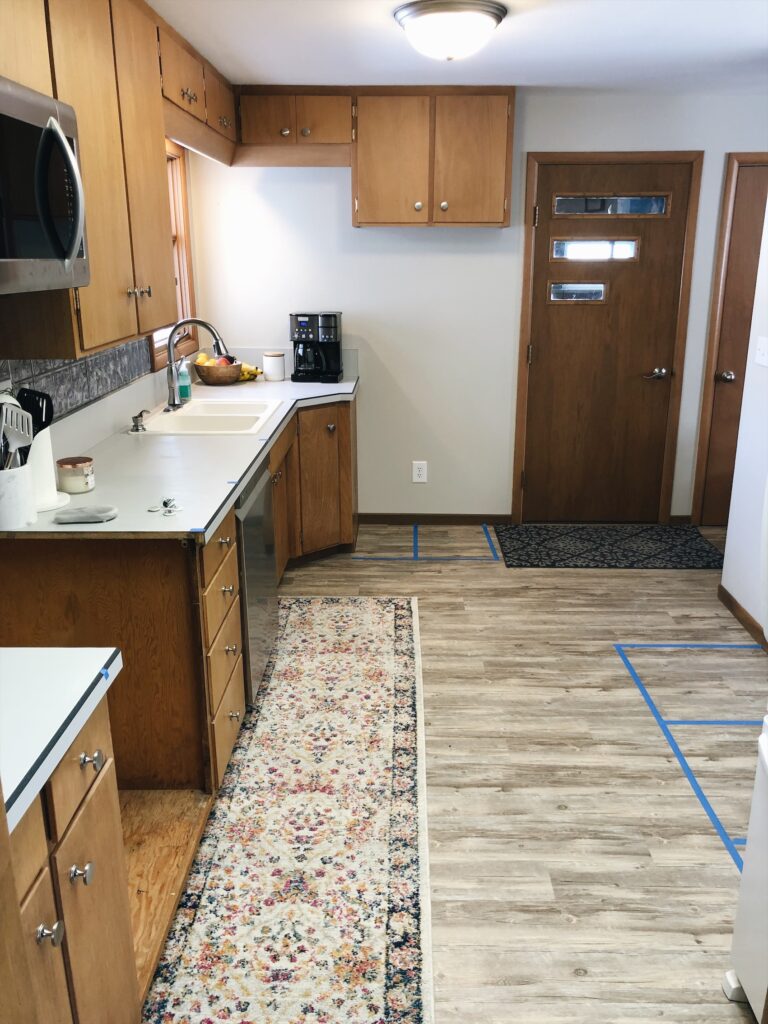 I followed a few people on Instagram that had Ikea cabinets and was totally intrigued, so I started doing research and asking around. We wanted to update the kitchen and make it functional and beautiful but we didn't want to spend $15k on cabinets alone. We had no idea how much the Ikea cabinets would cost, so we measured out our kitchen and used their online kitchen planning system and started plugging in cabinets and planning our current dream kitchen. We were shocked at how amazing the prices were. My parents are both very handy and my mom and I have put together many pieces of Ikea furniture in the past. So yes, you have to build every cabinet but we were ready to tag team the project!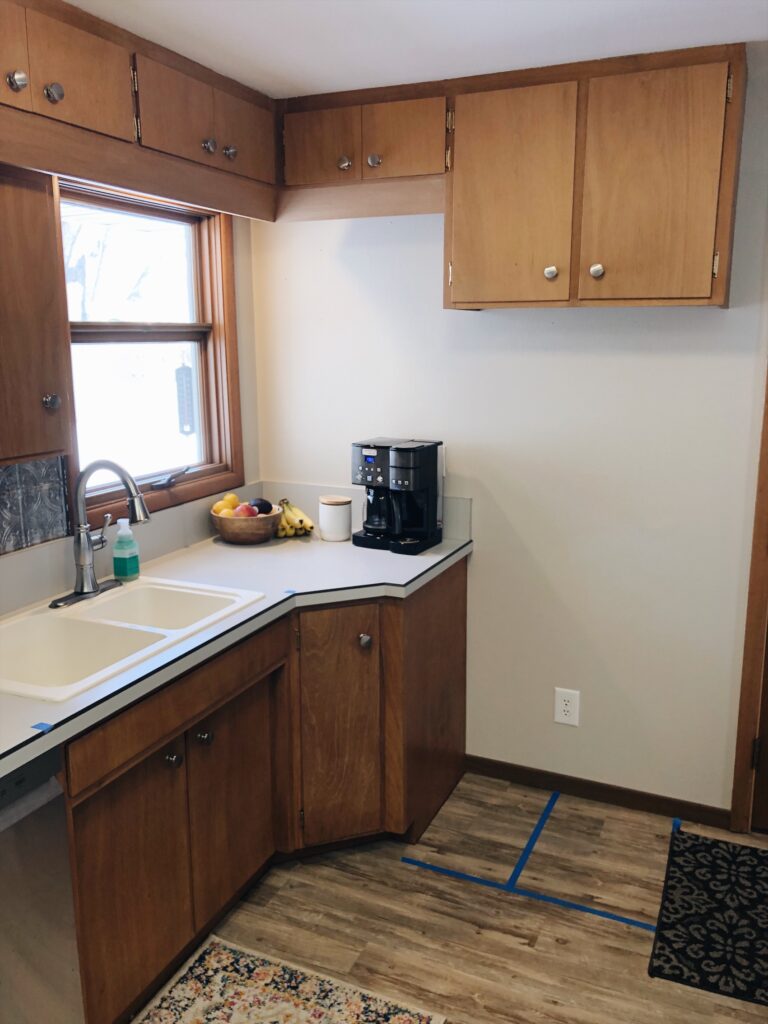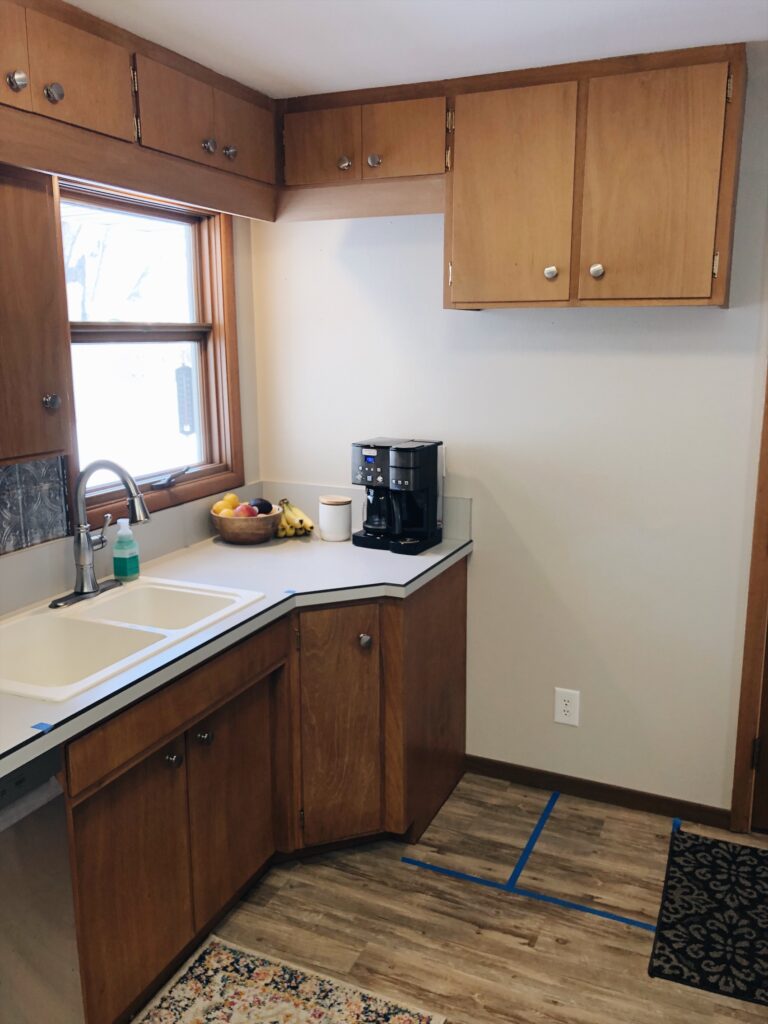 After doing more research, I found out Ikea usually has a Spring Kitchen Event. I had rough idea of when it was so we were trying to plan ahead and wait to purchase our cabinets then. In the past they have had 20% off, last year they had 15% but that 15% went on a gift card so not ideal. They finally announced the sale at the end of February and it was only 10% off but it came off the total price so it was still a great deal and there were no fine prints. Nate and I road tripped up to Ikea to look at everything in person and made sure we wanted to go through with it. We didn't see any cons so while there we scheduled an appointment for the middle of March to have a planning meeting with an expert to help us order everything. More on our Ikea experience and other kitchen details coming later this week!